The first thing we're going to do is sign into Google Analytics. Just hit the sign in button if you already have a Google account, otherwise sign up to make one by pressing "create an account".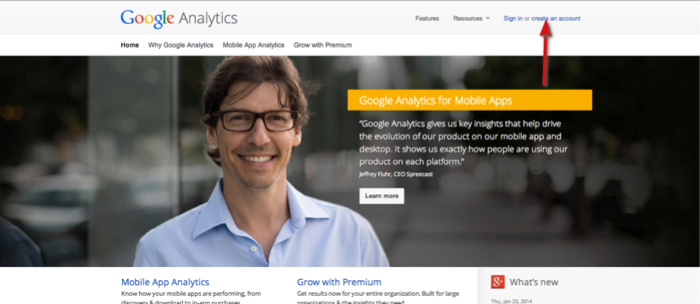 Signing In For The First Time
When signing in to analytics for the first time, you should be prompted with this screen. What we want to do from here is hit Sign up.
Setting Up Analytics Account
We are going to be prompted with a page to setup our Analytics account. These will be a few simple settings to get us started with Google Analytics.
1. Choose Mobile App
We are building a mobile app so it makes sense to be tracking our mobile app data.
2. Enter The Name of the Account.
If you plan on tracking multiple hyperPad creations, you may just want to enter hyperPad Creations for the name of this account.
3. Enter the Creation Name
Enter the name of the creation you want to track so you know what creation you are tracking.
4. Choose Category
Depending on your category choice, Google can give you some insights about the type of people playing with your creation.
5. Share Usage Data With Google
You have the option of letting Google know how you are using Google Analytics. They want to do the same thing you are doing, to make a better experience. You can turn this off if you don't want to give them your usage data.
6. Get Tracking ID
Finally, hit Get Tracking ID. This will give us the piece of information to enter into hyperPad.
This page has the tracking ID for your creation. This will be the Analytic ID that you will enter into hyperPad.
If you ever lose your tracking ID, all you have to do is go to Admin->Select your Account -> Select the name of your game -> and choose Tracking Code.