This Article will cover the different ways of importing assets into hyperPad. To view the different types of assets you can import view the "Supported Asset Types" article.
The quickest way to import, is by launching the Asset Library and choosing the "Import" option from the left menu. This allows you to import from your Camera Roll, Dropbox, Or iTunes.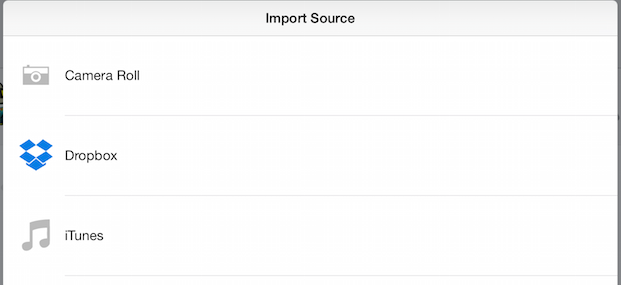 Camera Roll:
You can import any image that is stored in the devices Camera Roll. This includes any pictures you take with the camera, import from 3rd party apps, or downloaded through the web browser. The Camera Roll can not be used to import BMFonts, sprite sheets, or any other format not supported by Apple's image library. 
Remember that the maximum image size is 2048x2408 pixels. 
My Photo Stream:
Like the Camera Roll, you have access to all images in the photo stream. One thing to keep in mind is that the photo stream does not store transparency information.
Dropbox:
You can connect your DropBox account and import any image or sound stored in the DropBox cloud storage. Like the Camera Roll, you can not import sprite sheets or BMFonts, as the necessary meta data files are not visible.
Link With Dropbox:
For complete control over your projects assets, you can link your project with Dropbox so all assets are synced with DropBox and your Mac or PC.
This is the recommended method as it is the fastest way to get files from your desktop computer into your project. This makes it easy to work with tools like Photoshop and Illustrator.
To link your project with Dropbox, select "Link Dropbox" from the left menu in the Asset Library.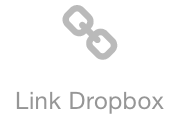 When you link your project with Dropbox, a "hyperPad" folder will be created in your Dropbox account, which will hold all linked projects. If a "hyperPad" folder already exists, your projects will be merged with the existing folder.
Any time you add, rename, or move a file or folder on Dropbox, the change will also be mirrored within hyperPad.
To import an asset, simply copy them to the desired location within the projects folder, and hyperPad will handle the rest once it has finished syncing. Keep in mind, when importing a lot of files the syncing process may take a few minutes. The syncing time is based on file size, the amount of files, and internet speed.
Linking your project with Dropbox is the only way to import advanced assets like Sprite Sheets and BMFonts. To import a Sprite Sheet or BMFont, add them to your project folder like any other asset. However, you must make sure the image and the metadata file are always together, and share the same name.
Keep in mind, that hyperPad will automatically generate Non-Retina (SD) assets once it has completed syncing.
Importing From Other Apps:
hyperPad can import content from 3rd party apps. If you're using an app that can export/share with other apps using the "Open In" dialog, then you can import a compatible asset into hyperPad.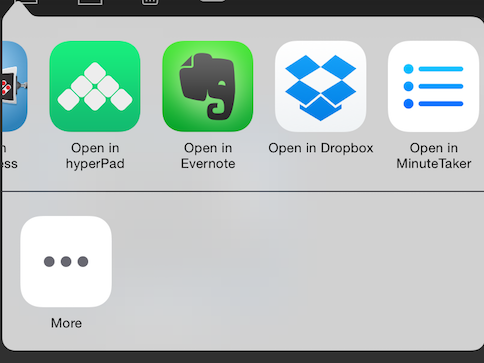 Once you have chosen to export your asset to hypePad, you will be prompted with a window to select which project you want the asset to be imported to.
After the import is successful, your asset will be located in the Asset Library.